In 1891 Gandhi passed the law examination successfully, but was assailed by doubts and anxieties. He had read the law, but could he practise it? He found it hard enough to speak to strangers in a small party. How would he be able to cross swords with his rivals in the court- room? He had hard of legal luminaries like Sir Pherozeshah Mehta of Bombay and could well imagine the sorry figure he would cut in comparison. It was thus "with just a little leaven of hope mixed with despair" that he sailed for India.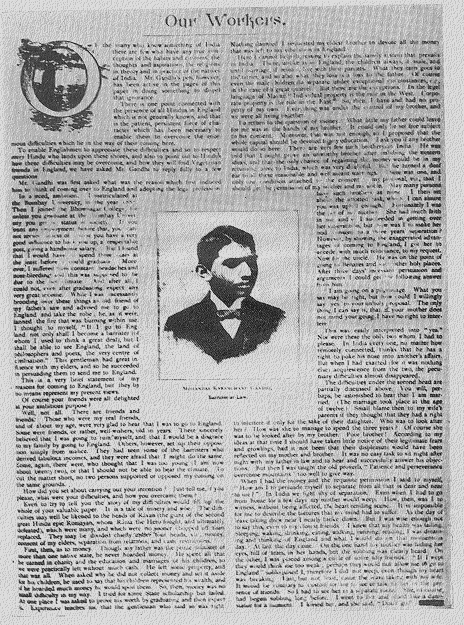 An interview with Gandhi published by the
Vegetarian, London, June 13, 1891
A great shock lay in store for him when he landed at Bombay. His mother had died while he was in England. It was only natural that he should have been anxious to justify the hopes of his family which had invested so much on his foreign education. His elder brother frankly expected rich dividends in the form of "wealth, and name and fame". The barrister's degree, however, was not an open sesame to the top of the bar. Gandhi noticed that the home-bred Vakils of Rajkot knew more of Indian law and charged lower fees than England sure ridicule; Gandhi, therefore, accepted the advice of friends to go to Bombay to study India law and to secure what briefs he could.
His experience in Bombay was no happier than in Rajkot. After waiting unconscionably, he got his first brief for the modest fee of thirty rupees. As he rose to cross-examine a witness, he was unable to collect his thoughts, collapsed into his chair and refunded the fee to his client. This was a disgraceful debut, which filled the young barrister with black despair as to his future in a profession he had entered at such a heavy cost.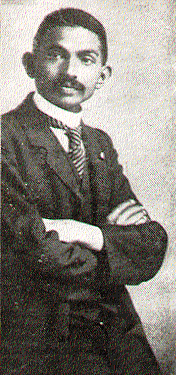 Gandhi as a barister in South Aftica
The straits to which he had been reduced may be surmised from the fact that he applied and was turned down for a part time job as a teacher in a Bombay high school with the modest salary of seventy rupees (£5 1/2) a month. It was with some relief that he discovered that he had a flair for drafting memorials and petitions. He wound up his little establishment in Bombay and returned to Rajkot where petition- writing brought him an income of three hundred rupees a month. He might have settled down as a barrister scribe if he had not incurred the displeasure of the British Political Agent in Rajkot in whose court most of his work lay. So, when an offer of a job came to him from South Africa, he gladly accepted it. The contract was for a year in connection with a civil suit; the remuneration was £105, a first-class return fare and actual expenses. The fee was modest and it was not quite clear whether he was engaged as counsel or as a clerk, but he was in no position to pick and choose. He could hardly have imagined the new vistas of maturity and public service which the South African adventure was to open to him.